SEND FAUX FLOWERS - THE EVERLASTING ALTERNATIVE TO FRESH BLOOMS
Choose Artificial Flowers for your Wedding
One of the most enjoyable decisions you are going to make is the one concerning which flowers to choose for yourself, your bridesmaids, your guests and the wedding reception and church.
If you are struggling to find the perfect faux flower bouquet or just dont know where to start why not let us help,
We have a wealth of experience in creating beautiful flower arrangements and bouquets for weddings or events and already have a wide and varied collection on the website to choose from, all designs feature foam or silk flowers, all of which we can customise, replacing specific flowers, using different ribbons or colours and if you still can't find exactly what you are looking for we are more than happy to design something extra special and bespoke just for you. 
wedding bouquet collections
Bouquets for your Bridesmaids
No matter what style or colour you finally decide upon for your bridesmaids flowers we are sure to be able to come up with the perfect design to compliment your bouquet and their dresses. We have a number of designs to choose from, or we can make bespoke designs to match your bouquet and are always happy to discuss your idea's and work within your budget,
To contact us either email or use the messenger button at the top of the page we love nothing more than being able to play a small part in the future plans for your wedding and look forward to hearing from you.
check out our range of Bouquets suitable for your bridesmaids
Flowers for your Guests
We have a selection of Artificial buttonholes and corsages to view on the website suitable for all your wedding guests but we are happy to make up bespoke designs to suit that special outfit or co-ordinate with your choosen wedding bouquets, all our wedding designs are made using quality artificial silk or foam flowers so they will never wilt and can be made up months in advance, still looking as beautiful on the day of the wedding as the day they were made.
check out our ranges of buttonholes and corsages
Decorations for the Reception
we have a range of items for sale on the website to decorate your reception, from candles, cake toppers, place card holders, signs and ofcourse we can design for you beautiful floral arrangements using artificial silk blooms to co-ordinate with your bridal flowers. let us add those finishing touches to make your wedding day extra special just contact us for a quote and to discuss further
check out some of our decorating ideas here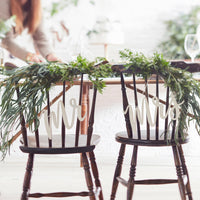 just some of our lovely customers photos